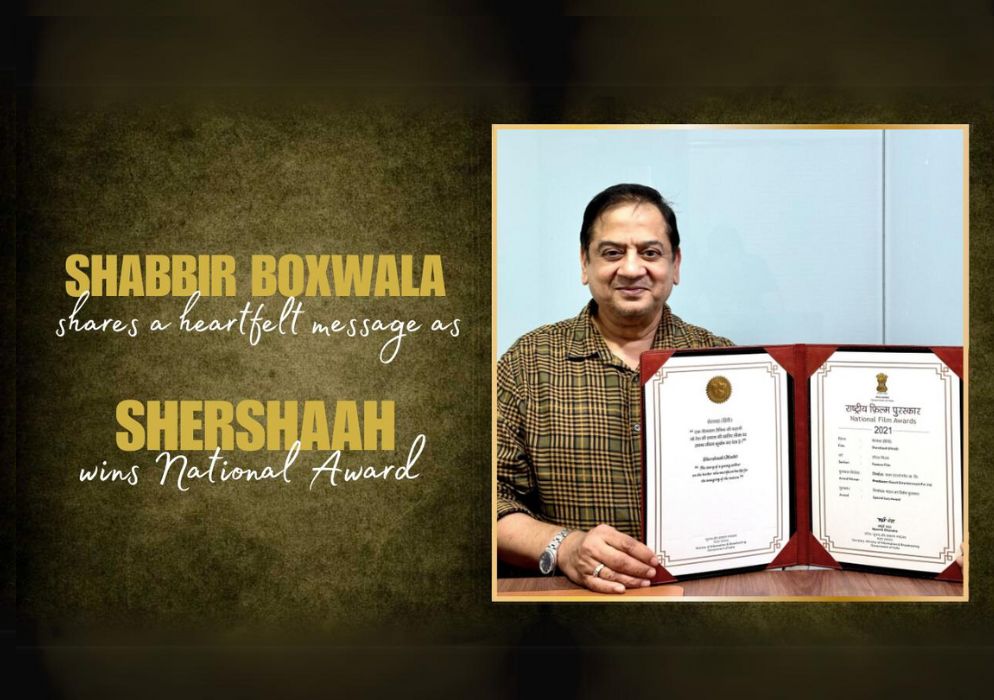 Gratitude on winning the Special Jury Award at the National Film Awards for 'Shershaah'
Producer Shabbir Boxwala shares a heartfelt message on receiving the National Award for Shershaah (Feature Films – Special Jury Award).
This award is not merely a recognition of our dedication but serves as a tribute to the valour of the late Capt Vikram Batra PVC, whose remarkable life was our film's driving inspiration.
Our endeavour began in 2016, and over these 5 years, it has been a journey filled with challenges, dedication, and passion. Conceived by Shabbir Boxwala at Kaash Entertainment and backed by the steadfast support of Vishal Batra and the Batra family, this venture was a tribute from the very outset. Fortune favoured us, as we were joined by exceptional talents in the industry. Sandeep Shrivastava's brilliant writing and Vishnu Vardhan's adept direction set our path. Soon after, Karan Johar, with his keen sense for stories that resonate, became our ally in this mission and brought the heft of Dharma Productions to the film. With Siddharth Malhotra and Kiara Advani headlining the film, we knew we had magic in the making. Of course, COVID-19 posed significant challenges, causing our initial 2020 release to be deferred. However, its premiere on Amazon Prime Video in July 2021 was met with a response beyond our wildest dreams. Despite missing a theatrical release the film became a true blue hit. In fact, the film's heart-touching tracks such as "Ranjha" and "Mann Bhareya" still resonate deeply and are among the favourites on platforms like Spotify and Apple Music. The critical acclaim and audience love that "Shershaah" has received is truly humbling. Earning numerous prestigious awards and now this National Award is a testament to its impact. But beyond the accolades, what truly stands out is the film's role as a beacon of inspiration, celebrating Captain Vikram Batra's ultimate sacrifice for the nation.
This entire experience reaffirms the enduring power of true stories of bravery and their ability to resonate across time and audiences. Jai Hind🇮🇳
View this post on Instagram
View this post on Instagram
View this post on Instagram